LASEK PRK
LASEK Procedures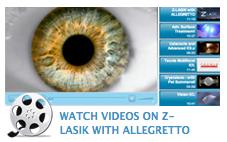 Dr. Pamel and his team of surgeons are New York LASIK specialists who are adept at a variety of vision correction surgeries and procedures aimed at improving vision. Performed at our Manhattan NYC office, LASEK is a relatively new procedure that is a technical variation of PRK (photorefractive keratectomy). LASEK is used mainly for patients with corneas that are too thin or too flat for most operations. In LASEK, the corneal epithelium (outer layer of the cornea) is first loosened with an alcohol solution. This is done by covering the corneal surface with the alcohol solution for approximately 30 seconds. Using special instrumentation, the LASEK physician peels back the surface layer exposing the underlying cornea.
Then it is applied to the cornea to reshape it allowing images to be more sharply focused on the retina. After this portion of LASEK is completed, the epithelial flap is placed back into its original position using a special spatula. A contact lens is then placed to facilitate healing. The contact lens remains in place usually for three days. It takes approximately one to two weeks before a patient's vision recovers completely. There is some irritation experienced during this period, but dryness is not as significant a problem as in other procedures.
The advantage of LASEK over most operations is that the risks associated with the microkeratome are eliminated. Also, all of the risks associated with a flap before, during, and after the procedure are eliminated as well. Patients whose corneas are too thin for this operation may be candidates for LASEKoperations. Additionally, patients with certain disorders of the corneal surface may be better candidates for LASEK than other treatments. Dr. Gregory Pamel will determine which procedure is best for you based on your individual examination.
Photorefractive Keratectomy (PRK)
Like LASEK, PRK is a procedure that also employs a computer controlled molecules to reshape the cornea. Unlike other operations, PRK does not involve the creation of a flap with a microkeratome. In PRK, the epithelium (the outermost layer of the cornea) is first removed. The molecules are then used to reshape the cornea. Because the outer surface is not preserved as in other procedures, PRK requires a longer healing process than other treatments and also requires the use of drops for a longer period of time. A patient who has undergone PRK does not recover vision as quickly as a patient who had other treatmentt.
With the advent of improved technology and new medication used at the time of the operation, the results of PRK and LASEK procedures are comparable to most treatment. The doctor will determine which procedure is best for you based on your examination.
Consult Dr. Pamel at Pamel Vision & Laser Group to learn more about LASEK vision correction surgery for LASIK Astoria / Queens and NYC patients. Additionally, prospective refractive surgery patients can learn more about some of the other procedures offered at Dr. Pamel's New York City office, including LASIK and PRK surgeries.
Please call our office at (212) 355-2215, or toll free at (888) 657-2010, for more information on premier PRK and LASEK procedures. Contact our offiice today.