Introducing Contoura™ Vision Topography Guided LASIK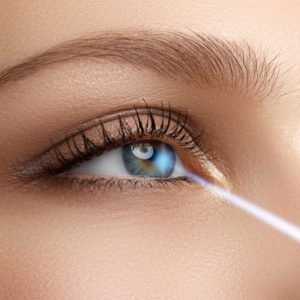 No form of laser vision correction to receive FDA approval is more advanced than Contoura™ Vision Topography Guided Laser Vision Correction. While some systems only treat the errors accounted for in your eyeglass prescription (lower-order aberrations), Contoura also identifies and corrects the unique and minute imperfections (i.e., higher-order aberrations) in the cornea's curvature.
Contoura performed exceptionally in clinical trials, with 98 percent of patients declaring they wou choose Contoura again. Ninety percent of patients had better vision without glasses after Contoura than they did with glasses before Contoura.
However, Contoura is only as great as the surgeon performing treatment. NYC LASIK surgeon Dr. Gregory Pamel is at the forefront of advances in laser vision correction, and is one of the first surgeons in the Northeast to offer Contoura laser vision correction.
Contoura vs. Other LASIK Treatments
More comprehensive corneal topography
Like custom wavefront-guided LASIK, Contoura maps out the topography of the cornea to identify irregularities. However, while wavefront-guided LASIK only measures about 200 points of curvature on the cornea, Contoura measures 22,000 points, thanks to an instrument called the Vario Topolyzer. As a result Contoura is able to capture the most microscopic peaks and valleys on the cornea. This information is then used to calibrate the state-of-the-art laser that normalizes the shape of the cornea so it properly refracts light.
Focuses on the topography measurements of the cornea
Another key difference between Contoura and other custom LASIK procedures is that wavefront-guided LASIK measures all parts of the eye that make up the visual pathway. On the other hand, Contoura focuses only on the cornea, where most of the imperfections that compromise vision are located. Identifying and correcting the flaws on other parts of the eye, such as the lens, can actually work against the changes made by LASIK.
Better quality of vision and reduction of side effects
The precision and accuracy of Contoura treatment not only produces better quality of vision, it also reduces the potential for visual side effects, such as nighttime glare.
Treatment Similarities
After capturing the unique topography of the cornea, Contoura proceeds similarly to other types of LASIK procedures. Dr. Pamel uses the Zeimer femtosecond laser to create a very thin flap in the cornea; then, he uses the Wavelight EX 500 excimer laser to reshape the cornea. After he is happy with the cornea's shape, he restores the flap to its original position, where it fits securely in place and heals itself.
Am I a Candidate for Contoura?
Interested in topography guided laser vision correction? You may be a suitable candidate if you:
are at least 18 years old
have a stable eyeglass or contact lens prescription that has not changed in at least six months
are in good general and mental health
are free of active eye infection or disease
To qualify for laser vision correction with Contoura, your visual prescription needs to fall within a certain range of nearsightedness and astigmatism. This is determined during an eye exam with Dr. Pamel.
Schedule an appointment to discuss Contoura and your candidacy with Dr. Pamel by calling (212) 355-2215 or sending us an email today.