Why Choose Gregory J. Pamel, M.D.?
Dr. Gregory Pamel is a New York City LASIK and vision correction surgery specialist with offices on the Upper East Side of Manhattan and Astoria. He is an attending surgeon at Northwell- Manhattan Eye, Ear and Throat Hospital and he is medical director of the Manhattan Surgery Center affiliated with Mount Sinai Hospital. He is also a clinical professor of ophthalmology at NYU School of Medicine.  Dr. Pamel has invested in the most advanced state-of-the-art equipment to assist him in providing his patients the most accurate measurements and diagnoses related to their eyes.
Board certified and fellowship trained corneal and cataract surgeon with more than 15 years of experience. Recently Dr. Pamel was awarded the American Academy of Ophthalmology Achievement Award for his contributions to teaching at the annual meeting over the last 10 years. He has trained surgeons around the world in lasik surgery as part of ongoing courses at the annual meetings of the European Society of Cataract and Refractive Surgery and the American Academy of Ophthalmology.
Dr. Pamel offers the latest in custom lasik technology with the Wavelight Allegretto laser, which will enhance your chances of seeing better than 20/20. He also offers the most advanced all laser lasik/ bladeless technology by Ziemer® to provide the safest method of correcting vision.
Dr. Pamel also has experience in other vision correction technologies to offer patients the best option for the correction of their nearsightedness, farsightedness and astigmatism. Over the last 15 years, more advanced technologies have emerged which are better suited for certain patients than laser vision correction. These include advances in cataract and lens implant surgery.
Dr. Pamel has been at the forefront of these technologies, which include the phakic intraocular lens (implantable contact lens) for the correction of extreme nearsightedness (myopia). Dr. Pamel was the principal investigator for the Verisyse® Phase III FDA clinical trial, which was approved in 2004. He was also involved in another FDA clinical trial for the newest implantable contact lens – the Veriflex® lens.  In addition he has been involved in the first artificial iris implant in the U.S. for those patients with traumatic or congenital absence of their iris. He was also the first surgeon in New York to implant Tecnis® multifocal lens implant, which can correct both distance and reading vision. Currently Dr. Pamel is involved in the study of a new implant for patients who have both cataracts and advanced macular degeneration.
More than just a vision correction specialist, Dr. Gregory Pamel also offers surgery to implant the Verisyse Phakic lens implant for high myopia and has trained other surgeons around the world on this procedure. He also performs cornea transplants and cataract surgery with lens implants, including the new multifocal and accommodating lens implants. He will determine the best procedure for you.
Gregory J. Pamel, M.D. Selected by Premier Surgeon as One of the Leading Innovators in Premium Intraocular Lens Surgery
The PS250 is a list of 250 surgeons the publisher and editors of Premier Surgeon have identified as leading innovators in the field of cataract and premium intraocular lens implant surgery.
Gregory J. Pamel, M.D. Selected to Be Principal Investigator for FDA Clinical Trial on Corneal Collagen Crosslinking for the Treatment of Keratoconus and Post-LASIK Ectasia
Gregory J. Pamel, MD, was selected to be principal investigator for an FDA clinical trial to evaluate the safety and efficacy of corneal collagen crosslinking for keratoconus and ectasia. Dr. Pamel was one of 10 physicians selected in the U.S. to participate in the trial sponsored by Topcon Medical Systems, Inc. using the VEGA UV-A Illumination System in 2010. Since that time Dr. Pamel has treated over 500 patients with keratoconus and ectasia referred by doctors from all over the U.S.  To learn more about keratoconus, ectasia and corneal collagen crosslinking, please click here.
The Most Advanced Bladeless-All Laser Lasik- Technology Available
Dr. Pamel is the first doctor in New York to utilize the most advanced bladeless, all-laser, LASIK system called Z LASIK®. Developed by the Ziemer Group in Switzerland, this femtosecond technology is the fastest and most accurate bladeless technology available. Dr. Pamel is committed to providing his patients the most advanced laser technology to achieve the best outcomes after LASIK.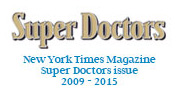 Dr. Pamel was featured in the New York Times Magazine Super Doctors issues 2009-2016. Ballots were sent out to thousands of doctors asking: "if you needed medical care, which doctor would you choose?" Those doctors "most highly regarded by their peers" were chosen to be part of the Super Doctors Issue. According to the publication, "numerous safeguards are in place to prevent ballot manipulation and doctors may not self nominate".
Dr. Pamel was awarded the American Academy of Ophthalmology Achievement Award in November 2008 in which he was recognized for his contribution to the scientific programs of the Annual American Academy of Ophthalmology Meeting.